Safe and secure ordering
At LifestylesatHome we promise to make your online shopping experience 100% safe and secure.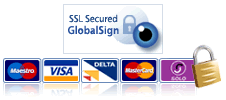 When you order using your credit card or debit card or access your account information, it's done using the Secure Sockets Layer (SSL) encryption method.
Your details are encrypted before the information goes from your computer to ours. When you see the padlock symbol at the bottom of the browser, you'll know that your details cannot be seen by any third party and that only we can see them.
The security of the system used on the LifestylesatHome website has been checked and verified by TrustUK and authenticated by Global Sign, the leading global certificate authority, to ensure absolute confidentiality.

Need more information?
If you need to talk to someone about secure ordering just contact the Customer Care Team.